19.05.2017 | Ausgabe 1-2/2017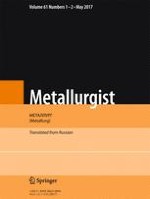 Set of Measures for Improving the Quality of Powders Based on Titanium for Additive Technology
Zeitschrift:
Autoren:

V. I. Kotlyarov, E. A. Yuzhakova, V. T. Beshkarev, V. V. Ivanov, R. Yu. Kozlov
Wichtige Hinweise
The following specialists took part in the work: V. E. Kartsev, A. A. Gasanov (Giredmet), A. V. Samokhin, A. A. Fadeev, N. V. Alekseev, and M. A. Sinaiskii (IMET RAN)
Translated from Metallurg, No. 1, pp. 90–94, January, 2017.
The change in morphology of polygonal powder in a low-temperature plasma generated in an arc discharge is an effective means for resolving the problem of preparing titanium alloy powder of spherical shape used in additive technology. A method is studied for preparing spherical powder of titanium and its alloys by spheroidization in streams of a polygonal powder thermal plasma, prepared by hydrogenation-dehydrogenation. A production scheme is proposed for preparing spherical titanium alloy powder for additive technology, including remelting of certified waste, ingot hydrogenation, crushing, screening its fractions, dehydrogenation, and gas centrifugal classification with final plasma treatment. A technology is developed for preparing spherical titanium alloy powder used in additive technology, with a reduced dissolved gas content. Methods are considered for improving the quality of spheroidized titanium powder including: minimization of the amount of particles with size less than 10 μm in the original polygonal powder, a change in composition of the plasma-forming gas, and prevention of contact with air by powder before and after spheroidization.