2017 | OriginalPaper | Buchkapitel
SetExpan: Corpus-Based Set Expansion via Context Feature Selection and Rank Ensemble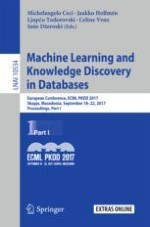 Erstes Kapitel lesen
Autoren: Jiaming Shen, Zeqiu Wu, Dongming Lei, Jingbo Shang, Xiang Ren, Jiawei Han
Abstract
Corpus-based set expansion
(i.e., finding the "complete" set of entities belonging to the same semantic class, based on a given corpus and a tiny set of seeds) is a critical task in knowledge discovery. It may facilitate numerous downstream applications, such as information extraction, taxonomy induction, question answering, and web search.
To discover new entities in an expanded set, previous approaches either make
one-time entity ranking
based on distributional similarity, or resort to
iterative pattern-based bootstrapping
. The core challenge for these methods is how to deal with noisy context features derived from free-text corpora, which may lead to entity intrusion and semantic drifting. In this study, we propose a novel framework,
SetExpan
, which tackles this problem, with two techniques: (1) a context feature selection method that selects clean context features for calculating entity-entity distributional similarity, and (2) a ranking-based unsupervised ensemble method for expanding entity set based on denoised context features. Experiments on three datasets show that
SetExpan
is robust and outperforms previous state-of-the-art methods in terms of mean average precision.