2015 | OriginalPaper | Buchkapitel
3. Setting up the Experimental Design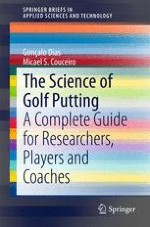 Erstes Kapitel lesen
Autoren: Gonçalo Dias, Micael S. Couceiro
Abstract
The past decades have seen technological advances and new analysis tools that allow comprehensive interpretation of human movement patterns. As movement patterns are being analyzed with improved technology, subtle individualities or signature patterns of movement have been identified. These technological advances open a window of opportunity to further study and augment understanding in several fields, including sport science, that benefit from a multidisciplinary approach (biomechanics, engineering, mathematics, motor control) (Dias et al. On a ball's trajectory model for putting's evaluation. Computational intelligence and decision making—trends and applications, from intelligent systems, control and automation: science and engineering bookseries
2013
). This chapter may be seen as a guide for setting up the experimental design for research purposes. Several methodological and technological alternatives will be presented and compared. Moreover, a case study provided by the authors and applied to golf putting in the laboratory context will be introduced as an example. Note that the same case study will be used throughout the book. New methods for performance analysis of golf putting have been suggested, focusing on individual kinematic analysis, rather than the traditional pooling of group data, such as in Couceiro et al. (J Motor Behav 45:37–53,
2013
) and Dias et al. (On a ball's trajectory model for putting's evaluation. Computational intelligence and decision making—trends and applications, from intelligent systems, control and automation: science and engineering bookseries
2013)
. The purpose was to understand the relevant changes resulting from the interaction between the athlete's characteristics and the surrounding context by analyzing the motor behavior profiles as measured by the individual kinematic strategies. It is also important to mention that the use of new technologies involves a more profound approach than the traditional linear techniques, which mainly consider product measurements/variables that are a result of the movement (through average, standard deviation or variation coefficient), something that does not allow analysis of the movement itself (Harbourne and Stergiou JNPT Am Phys Ther 89:267–82,
2009
).