01.09.2016 | Original Article | Ausgabe 18/2016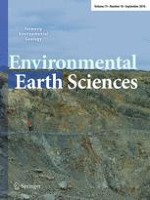 Shallow subsurface temperature in the environs of El-Nubaria canal, northwestern Nile Delta of Egypt: implications for monitoring groundwater flow system
Zeitschrift:
Autoren:

Zenhom El-Said Salem, Osman M. Osman
Abstract
Borehole temperatures from 47 wells were utilized to comprehend the spatial subsurface thermal regime in the study area. The recharge regions are situated in reclaimed desert lands (southern and southwestern parts) and have high subsurface temperatures, whereas the discharge areas are situated in the old agricultural lands (northern and northeastern parts) and have lower subsurface temperatures. This thermal system is attributed to differences in the surface air temperature where higher values are recorded in the developed desert (Wadi El-Natrun station average annual 23.15 °C) and the lower values in the old agricultural land (Damanhour station average annual 20.37 °C). The geothermal gradient is low in the recharge area (average 0.0198 °C/m) and high in the discharge area (average 0.0343 °C/m). The effect of the irrigation canals as gaining or losing streams on the thermal system decreases gradually and disappears at 90 m below sea level. Two-dimensional groundwater flow and heat transport models were simulated to estimate the vertical groundwater flow velocity and predict the factors controlling the groundwater flow system. Permeability was the most sensitive parameter during the simulation process. The assessed
vertical
linear groundwater velocities are, up to 3.2 mm/day in the main recharge region toward the southwestern course, up to 2.4 and 2 mm/day under El-Bustan and El-Hager canals, respectively, and up to 1.4 mm/day in the contact between the reclaimed desert and the old agricultural lands. The average
vertical
linear groundwater discharge velocities are, more than 2.4 mm/day in the southwestern corner, 0.8 and 0.6 mm/day in the northeastern and northern directions, respectively and 1.2 and 2.4 mm/day under El-Nubaria and Ferhash canals, respectively.