16.06.2018 | Original | Ausgabe 5/2018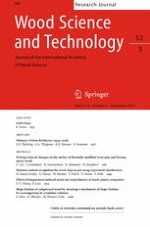 Shape fixation of compressed wood by steaming: a mechanism of shape fixation by rearrangement of crystalline cellulose
Zeitschrift:
Autoren:

Shuoye Chen, Eiichi Obataya, Miyuki Matsuo-Ueda
Wichtige Hinweise
Publisher's Note
Springer Nature remains neutral with regard to jurisdictional claims in published maps and institutional affiliations.
Abstract
Japanese cedar wood specimens were compressed radially using saturated water vapor at 160 °C. Their shape recovery in hot water, cellulose crystallinity, and dynamic viscoelastic properties were measured. The compressed shape of the wood was fixed completely with 120 min of steam compression. In addition, the tensile strain of the elongated steam-compressed wood specimens was recovered almost completely upon immersion in hot water. The crystallinity and crystal width of cellulose in the compressed wood increased with increasing steaming duration, corresponding to the fixation of the compressed shape and the recovery of tensile strain. These results suggested that the recrystallization or co-crystallization of cellulose, i.e., the reformation of elastic members in the wood cell walls, caused shape fixation by steam compression. When a wood specimen was compressed at 25 °C, its dynamic Young's modulus in the radial (
R
) direction (
E
R
) decreased, while its mechanical loss tangent (tan
δ
R
) increased remarkably. However, upon subsequent steaming, the reduced
E
R
began increasing and the enhanced tan
δ
R
began decreasing. These changes were explained by a hypothetical slip–cure model in which microfractures and slippage between or within microfibrils were cured by the rearrangement of cellulose under steaming.