01.09.2012 | Research Article | Ausgabe 3/2012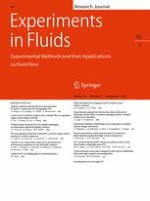 Shear layer instabilities in low-density transverse jets
Zeitschrift:
Autoren:

Daniel R. Getsinger, Cory Hendrickson, Ann R. Karagozian
Abstract
The near-field shear layer instabilities forming in round transverse jets of variable (reduced) densities relative to the crossflow are investigated through gas-phase experiments. Jets composed of helium and nitrogen mixtures are injected from a converging nozzle mounted flush with an injection wall into air crossflow, allowing the jet-to-crossflow density ratio
S
to be varied between 1.00, the equidensity case, and 0.14, at constant jet Reynolds number
Re
j
= 1,800. Jet-to-crossflow momentum flux ratios
J
are examined in the range
\(\infty>J\geq5\)
at incremental values of the density ratio
S
. The results of single-component hotwire measurements in the jet shear layer indicate that a transition to global instability likely occurs as
J
is brought below approximately 10, and/or as
S
is brought below approximately 0.45–0.40. This observation appears to link many previous independent studies of both equidensity transverse jets and low-density free jets, which may become globally unstable under alteration of
J
and
S
, respectively. However, the dynamical character of the transition to global instability in the low-density transverse jet displays differences under independent variation of
J
and
S
, which may indicate the predominance of different modes.