01.02.2011 | Originals Originalarbeiten | Ausgabe 1/2011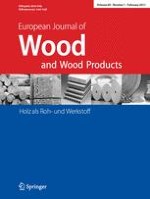 Shear strength of glued laminated timber made from European beech timber
Zeitschrift:
Autoren:

Simon Aicher, Denny Ohnesorge
Abstract
This paper describes an investigation into the shear strength of glued laminated timber (GLT) made from European beech. Special consideration was paid to the possible strength influence of a frequently occurring discolouration of the timber, termed red heartwood, which is inherent to the species. The beech lamellae were visually graded according to German hardwood grading standard DIN 4074-5. Grade LS13, conforming to European hardwood strength class D40, was split into two sub-grades LS13− and LS13+. Additionally, modulus of elasticity (MOE) was determined by ultrasound pulse, longitudinal vibration and static tension tests. Sub-grade LS13+ showed a mean density and MOE of 690 kg/m3 and 14,800 N/mm2, respectively.
The GLT shear strength was evaluated by means of four-point bending tests on structural sized I-shaped beams with a depth of 0.6 m and a span to depth ratio of 5:1. The slightly inhomogeneous build-up of the cross-section conformed to glulam strength class GL42c. Two beam samples were investigated, each with seven specimens, where one grouping had no red heartwood and the other with a high red heartwood in the web laminations. Additionally block shear tests on bond line strength were performed with standardized small specimens according to EN 392.
Neither the beam shear capacity tests nor the bond line block shear tests revealed an influence of the red heartwood discolouration on strength. The fifth-percentile value of shear strength of all beams was 3.5 N/mm2. The results of the block shear tests indicate that the present requirements on minimum block shear strength are set too low in the European standard EN 386 with regard to beech GLT.