2016 | OriginalPaper | Buchkapitel
Shifting Sands: Interrogating the Problematic Relationship Between International Public Finance and International Financial Regulation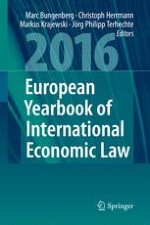 Erstes Kapitel lesen
Autor: Celine Tan
Abstract
International public finance and international financial institutions have regained prominence in wake of the global financial crisis. The conscription of international public finance to crisis resolution and management in recurrent sovereign debt crises has highlighted the centrality of international public finance and its institutions to global economic regulation. In particular, the financial crisis has underscored the fundamental role of international public finance in managing the negative externalities caused by failures of international economic law and governance.
This paper interrogates the problematic relationship between international public finance and international economic law, in particular their shared responsibility for the distribution of international economic resources. It investigates the role played by international financial aid in mitigating the distributive dislocations resulting from international law's allocation of the risks and benefits of a globalized economy and examines how utilisation of aid finance in this manner has influenced the regulatory trajectories of international economic law.
Drawing on the example of sovereign debt relief and international financial regulation, this paper argues that the deployment of development finance as responses to the regulatory crises of the global financial system have had adverse effects on regulatory change, especially on efforts to reorient international financial law towards a more progressive social and economic agenda. It demonstrates how current practices of financial aid not only fail to address the systemic failings of the international financial system, they serve to sustain, if not entrench, existing asymmetries in international economic law, thereby exacerbating its negative distributive outcomes.