2006 | OriginalPaper | Buchkapitel
Shock Response Spectrum Analysis for Measured Earthquake Data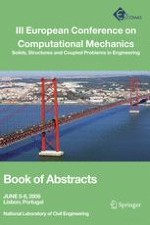 Erstes Kapitel lesen
Autor: Mihai Ursu
Verlag: Springer Netherlands
Current methods of analyzing signals delivered from vibrations transducers are mainly based on realtime processing in frequency domain. After a shock measurement results a trace that contains a value of a shock's parameter on the time axis, during its whole action. In earthquake engineering, the parameter usually defines acceleration. Often, this trace is by itself not directly useful for the physical phenomena interpretation and therefore it must be transformed. Regarding the analysis type, these transformations are based on the Fourier transform and on the digital filtering.
The principle of the digital filtering method is based on applying the z-transform to the transfer function of a single degree of freedom system, for the relative displacement or for the absolute acceleration model. It is applied by studying the effects on structures when the shock acts like an excitation. To distinguish it from the Fourier spectrum, the digital filtering method is called also the shock response spectrum (SRS) or, simply, shock spectrum.
The mathematical model for the SRS analysis is considered in this paper, for the particular case of using accelerograms as input signals. These are applied to a C++ written computer simulator which is able to adapt the damping coefficient of the system, the sampling rate of the digital filter, to plot the shock response spectrum as a function of the natural frequency and to generate the spectrum pattern for each particular accelerogram. The frequency contents of two major earthquakes from 1977 and 1986, with the epicenter in the Vrancea region, Romania, are also analyzed. In contrast with the elastic response spectrum method, where the damping ratio is typically set to 5%, the digital filtering method uses variable damping ratios in order to match the system equivalent viscous damping for a specific acceleration time-history. The digital filtering also has the advantage of a much lower natural frequency (or a higher natural period), for the same sampling rate, when compared to step-by-step procedures. By halving or doubling the sampling rate the filter will operate in a frequency domain one octave lower or upper, and because of its z-transform derivation, the digital filtering is of high practical interest for data acquisition systems with spectrum analyzers.