2013 | OriginalPaper | Buchkapitel
9. Shocks as Burn-in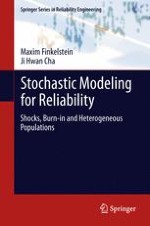 Erstes Kapitel lesen
Autoren: Maxim Finkelstein, Ji Hwan Cha
Verlag: Springer London
Abstract
As described in the previous chapters, in conventional burn-in, the main parameter of the burn-in procedure is its duration. However, in order to shorten the length of this procedure, burn-in is most often performed in an accelerated environment. This indicates that high environmental stress can be more effective in eliminating weak items from a population. In this case, obviously, the larger values of stress should correspond to the shorter duration of burn-in. By letting the stress to increase, we can end up (as some limit) with very short (negligible) durations, in other words,
shocks.
In practice, the most common types of shocks as a method of burn-in are "thermal shock" and "physical drop". In these cases, the item is subjected to a very rapid cold-to-hot, or hot-to-cold, instantaneous thermal change or the item is dropped by a "drop tester" which is specifically designed to drop it without any rotational motion, to ensure the most rigorous impact. In this case, the stress level (to be called shock's
severity
) can be a controllable parameter for the corresponding optimization, which in a loose sense is an analogue of the burn-in duration in accelerated burn-in.