28.03.2019 | Ausgabe 1/2020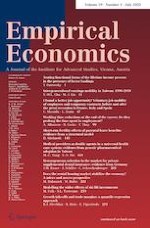 Short-run fertility effects of parental leave benefits: evidence from a structural model
Zeitschrift:
Autor:

Holger Stichnoth
Wichtige Hinweise
Funding by the Deutsche Forschungsgemeinschaft (DFG), Project Number 264753967, is gratefully acknowledged. The paper builds on a project financed by the German Federal Ministry of Finance (BMF) and the Federal Ministry of Family Affairs, Senior Citizens, Women and Youth (BMFSFJ). The views expressed in the paper are those of the author and not necessarily those of the two ministries. Raphael Abiry, Holger Bonin, Karsten Reuss (all at ZEW Mannheim) as well as Christina Boll, Nora Reich, Christina B. Wilke (all at HWWI Hamburg), Marc-André Nehrkorn-Ludwig, Reinhold Schnabel (both at the University of Duisburg-Essen), Irene Gerlach, Inga Laß (both at FFP Münster) and Karsten Hank (University of Cologne) participated in the overall project and provided valuable input into the development of the present model. The manuscript benefitted from comments by François Laisney and from discussions with seminar participants at ZEW Mannheim, NIW Hannover, the Institute for Fiscal Studies (London) and ISER/University of Essex, workshop participants at the ZEW Workshop on Family Economics (November 2013), the ZEW Workshop on Family Policy in Germany (February 2014) and the 4th Workshop "Arbeitsmarkt und Sozialpolitik" at ifo Dresden.
Publisher's Note
Springer Nature remains neutral with regard to jurisdictional claims in published maps and institutional affiliations.
Abstract
Based on a structural model of fertility and female labour force supply with unobserved heterogeneity and state dependence, we evaluate the 2007 reform of parental leave benefits in Germany, which replaced a flat, means-tested benefit by a generous earnings-related transfer. The model predicts a short-term fertility effect of about 4%, which is consistent with recent quasi-experimental evidence. The fertility effect is strongest for first births and increases with income. We use the model for a number of counterfactual policy experiments in which we vary the generosity of parental leave benefits.