01.09.2016 | Original Article | Ausgabe 18/2016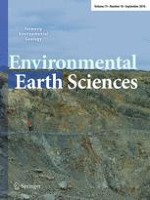 Short-term stable isotopic composition variations of near-surface atmospheric water vapor in four semiarid areas (Binxian, Guyuan, Wujiachuan, Yuzhong) in interior northwestern China
Zeitschrift:
Autoren:

Meng Xing, Weiguo Liu
Abstract
This study used an in situ method to monitor short-term atmospheric water vapor concentrations and stable isotopic composition (δ
18
O
v
and δD
v
) variations at four sites in semiarid areas of northwestern China during 2014. On a spatial scale, we distinguish a south-to-north difference in atmospheric water vapor concentration. The spatial patterns of water vapor lines (WVLs) may be associated with regional setting. Smaller slopes of WVLs in Guyuan and Yuzhong may reflect dew evaporation, and a steeper slope of WVL in Wujiachuan may be representative of atmospheric water vapor isotopic composition in equilibrium with that of precipitation. On a temporal scale, δ
18
O
v
, δD
v
, and d
v
exhibited variable patterns, indicating various influences of entrainment, local evapotranspiration (ET), and dew evaporation. A deceasing trend of atmospheric water vapor δ
18
O
v
and δD
v
in Wujiachuan indicates that the entrainment effect surpassed that of evaporation; an increasing trend in Guyuan and Yuzhong may be attributed to the effect of evaporation surpassing that of entrainment. Based on a precipitation event at Guyuan, the lateral air mass transported from Wujiachuan may be the reason for rapid recovery of atmospheric vapor isotopic composition to the baseline value and a looping pattern between atmospheric water vapor mixing ratio (
w
) and δ
18
O
v
observed at Guyuan. Linear correlation coefficients of δ
18
O
v
with
w
varied from 0.02 to 0.88 at four study sites. Location differences may be the reason for the capability of
w
to explain why the variability of atmospheric water vapor isotopic composition was greater at Wujiachuan than at Binxian. Dew evaporation after the precipitation event may be the major reason for eliminating the relationship between
w
and δ
18
O
v
at Guyuan and Yuzhong. Although synoptic conditions were similar at the four sites, δ
v
variations may be controlled by ET, entrainment, and dew formation at different sites and times.