29.08.2016 | Ausgabe 10/2016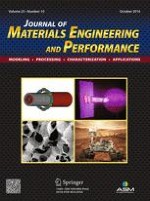 Shrinkage-Stress Assisted Diffusion Bonds Between Titanium and Stainless Steel: A Novel Technique
Zeitschrift:
Autoren:

A. B. Mukherjee, A. Laik, V. Kain, J. K. Chakravartty
Diffusion bonding of high-strength titanium (Ti) to stainless steel (SS) (i.e., transition joint of lap configuration) is designed and assessed for the
possible high-temperature
,
high-pressure
applications for the nuclear power plant and chemical industries. The strength of annular joint is enhanced by providing grooves at the interface ensuring strength of the joint compatible to Ti. The optimized hot forming conditions are utilized to facilitate the flow of Ti to fill the grooves located at the interface on SS sleeve resulting in strong mechanical connection. The shrinkage stress developed due to differential contraction during cooling facilitates the diffusion bonding at the interfaces inside the grooves under relatively lower temperature. The present design concept results in the formation of low level of intermetallic compounds at the interface. The bond width containing the intermetallic compounds toward Ti side has been found to be less than that of the high-strength diffusion bonds as occasionally reported in the open published literatures.