11.05.2016 | Methodologies and Application | Ausgabe 20/2017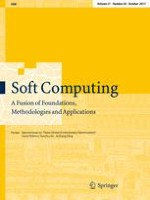 Shuffled artificial bee colony algorithm
Zeitschrift:
Autoren:

Tarun Kumar Sharma, Millie Pant
Abstract
In this study, we have introduced a hybrid version of artificial bee colony (ABC) and shuffled frog-leaping algorithm (SFLA). The hybrid version is a two-phase modification process. In the first phase to increase the global convergence, the initial population is produced using randomly generated and chaotic system, and then in the second phase to balance two antagonist factors, i.e., exploration and exploitation capabilities, population is portioned into two groups (superior and inferior) based on their fitness values. ABC is applied to the first group, whereas SFLA is applied to the second group of population. The proposed version is named as
Shuffled-ABC
. The proposal is implemented and tested on constrained benchmark consulted from CEC 2006 and five chemical engineering problems where constraints are handled using penalty function methods. The simulated results illustrate the efficacy of the proposal.