21.11.2018 | Materials for life sciences | Ausgabe 5/2019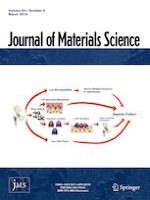 Si, N-codoped carbon dots: preparation and application in iron overload diagnosis
Zeitschrift:
Autoren:

Songliang He, Suwen Qi, Zhencheng Sun, Guoshuai Zhu, Ke Zhang, Wenwen Chen
Wichtige Hinweise
Electronic supplementary material
Songliang He and Suwen Qi have contributed equally to this paper.
Abstract
Heteroatom doping is a straightforward and smart strategy to improve the fluorescence efficiency of carbon dots (CDs). We synthesized the Si, N-codoped CDs (SiNCDs) with high quantum yield up to 29.7% through one-step hydrothermal method. The linear range for Fe3+ was between 0 and 200 μM, and the limit of detection was about 5 μM, which presented potential for Fe quantification in serum to diagnose Fe overload. In addition, the SiNCDs demonstrated good selectivity to Fe3+ among high concentrations of metal ions, amino acids and H2O2, so there is no need to mix additional reagents as the colorimetric method does in clinic, making SiNCDs more competitive in clinical application. Furthermore, we explored the practicability of SiNCDs by detecting Fe in serum from five healthy volunteers and three patients suffering Fe overload. The recovery rate was from 87.1 to 113.6%, which confirmed the application prospect of SiNCDs in clinical diagnostics.