01.08.2014 | Original Article | Ausgabe 3/2014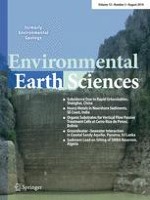 Significance of co-immobilized activated carbon and
Bacillus subtilis

on removal of Cr(VI) from aqueous solutions
Zeitschrift:
Autoren:

C. Sukumar, G. Gowthami, R. Nitya, V. Janaki, Seralathan Kamala-Kannan, K. Shanthi
Abstract
Batch sorption system using co-immobilized (activated carbon and
Bacillus
subtilis
) beads as adsorbent was investigated to remove Cr(VI) from aqueous solution. Fourier transform infrared spectroscopy analysis showed the functional groups of both bacteria and activated carbon in co-immobilized beads. Experiments were carried out as a function of contact time (5–300 min), initial metal concentration (50–200 mg L
−1
), pH (2–8), and adsorbent dose (0.2–1 g L
−1
). The maximum percentage of removal was found to be 99 %. Langmuir model showed satisfactory fit to the equilibrium adsorption data of co-immobilized beads. The kinetics of the adsorption followed pseudo-second-order rate expression, which demonstrates that chemisorption plays a significant role in the adsorption mechanism. The significant shift in the Fourier transform infrared spectroscopy peaks and a Cr peak in the scanning electron microscope–energy dispersive spectroscopy spectra further confirmed the adsorption. The results indicate that co-immobilized beads can be used as an effective adsorbent for the removal of Cr(VI) from the aqueous solution.