19.08.2019 | Ausgabe 11/2019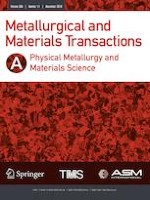 Significance of Partial Substitution of Carbon by Nitrogen on Strengthening and Toughening Mechanisms of High Nitrogen Fe-15Cr-1Mo-C-N Martensitic Stainless Steels
Zeitschrift:
Autoren:

Hao Feng, Hua-Bing Li, Wei-Chao Jiao, Zhou-Hua Jiang, Ming-Hui Cai, Hong-Chun Zhu, Zhi-Gang Chen
Wichtige Hinweise
Manuscript submitted February 17, 2019.
Publisher's Note
Springer Nature remains neutral with regard to jurisdictional claims in published maps and institutional affiliations.
Abstract
We elucidated the significance of partial substitution of C by N in three high nitrogen Fe-15Cr-1Mo-C-N martensitic stainless steels (MSSs), and particularly its influence on microstructural features and the strength-toughness balance. The results show that partial substitution of C by N avoided the formation of coarse intergranular carbides and caused significant changes in the type of carbonitrides from M23C6 to M23C6+M2N and finally to M2N. Meanwhile, partially replacing C by N first increased and then decreased the effective grain size, the fraction of retained austenite, and the plate martensite, while the variations of the amount of carbonitrides and dislocation density were just the opposite. The microstructural evolutions with varying (C+N) contents played a crucial role in determining the overall properties: the 0.35C-0.37N steel exhibited an improved impact toughness (~ 86.1 J), which was 2 or 3 times higher than those of 0.50C-0.16N and 0.20C-0.54N steels, even at a strength level of over 2 GPa. The contributions of partial substitution of C by N on the strengthening mechanisms of MSSs were also systematically revealed by combining the experimental and theoretical data.