20.09.2019 | Original | Ausgabe 6/2019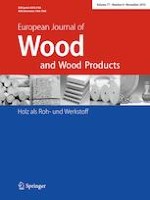 Significant and reversible dimensional changes in hydrothermally compressed cedar wood and its potential as humidity-sensitive actuator
Zeitschrift:
Autoren:

Eiichi Obataya, Shuoye Chen
Wichtige Hinweise
Publisher's Note
Springer Nature remains neutral with regard to jurisdictional claims in published maps and institutional affiliations.
Abstract
Japanese cedar wood samples were radially compressed by 52% using saturated water vapor at 160 °C. The steam-compressed (SC) samples were boiled in water to recover their compressed shapes, and the shape recovery was evaluated on the basis of the dimensional changes under completely dry condition. The compressed shape of the wood was memorized by steaming for 90 min. After the recovery treatment, the radial and tangential swelling of the wood samples were measured during the moistening and subsequent drying. The SC wood exhibited anomalously large and reversible swelling in the radial direction, whereas its tangential swelling was almost the same as that of the uncompressed wood. The significant and reversible swelling of the SC wood was due to the swimming ring-like expansion and collapse of the folded earlywood cell wall. To evaluate the potential of SC wood as a humidity-sensitive actuator, a wooden bilayer was made by combining SC wood with a cedar wooden veneer. The flexural deformation of the SC wooden bilayer due to humidity change was significantly greater than that of the conventional bilayer, which consists of beech wood and cedar wooden veneer.