08.05.2019 | Original Research | Ausgabe 9/2019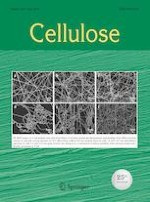 Significantly improved flame-retardancy of cellulose acetate nanofiber by Mg-based nano flaky petal
Zeitschrift:
Autoren:

Lang Jiang, Ke Li, Huiyu Yang, Xin Liu, Weilin Xu, Bo Deng
Wichtige Hinweise
Lang Jiang and Ke Li have contributed equally to this work.
Publisher's Note
Springer Nature remains neutral with regard to jurisdictional claims in published maps and institutional affiliations.
Abstract
Flower-shaped hydromagnesite (MgO-P) and magnesium oxide (MgO) micro spheres were synthesized via precipitation-aging method with and without calcination. The disassociated nano flaky petal of around 50 nm (~ 20 nm in thickness) of MgO-P and MgO by sonication were used as flame-retardants for the electrospun cellulose acetate (CA)/MgO-P or CA/MgO nanofiber. SEM, XRD, FTIR, HRTEM were used to characterize all related products. TGA was used to analyze the detailed decomposition procedures of bare, MgO-P, and MgO doped CA nanofiber. Three evaluation methods including broken time after heating, thermography during heating, and combustion observation were adopted to compare the flame-retardancy of composited nanofibers. Doped CA nanofibers showed best flame-retardancy by extending the heat-induced broken time from 0.46 to 12.09 s, which is 26.3 times that of CA nanofiber. The flame of CA/MgO-P and CA/MgO could be self-extinguished once the ignition source was removed. No smoke and size shrinkage could be observed during the combustion of CA/MgO-P or CA/MgO nanofibers. Corresponding flame-retarding mechanism of Mg-based nano flaky petal was proposed.