01.06.2015 | Ausgabe 2/2015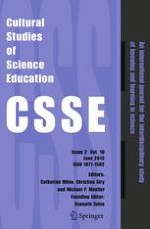 Signs of taste for science: a methodology for studying the constitution of interest in the science classroom
Zeitschrift:
Autoren:

P. Anderhag, P.-O. Wickman, K. M. Hamza
Wichtige Hinweise
Lead editor: M. Weinstein.
Abstract
In this paper we present a methodological approach for analyzing the transformation of interest in science through classroom talk and action. To this end, we use the construct of
taste for science
as a social and communicative operationalization, or proxy, to the more psychologically oriented construct of interest. To gain a taste for science as part of school science activities means developing habits of performing and valuing certain distinctions about ways to talk, act and be that are jointly construed as belonging in the school science classroom. In this view, to learn science is not only about learning the curriculum content, but also about learning a normative and aesthetic content in terms of habits of distinguishing and valuing. The approach thus complements previous studies on students' interest in science, by making it possible to analyze how taste for science is constituted, moment-by-moment, through talk and action in the science classroom. In developing the method, we supplement theoretical constructs coming from pragmatism and Pierre Bourdieu with empirical data from a lower secondary science classroom. The application of the method to this classroom demonstrates the potential that the approach has for analyzing how conceptual, normative, and aesthetic distinctions within the science classroom interact in the constitution of taste for, and thereby potentially also in the development of interest in science among students.