01.08.2016 | Research Paper | Ausgabe 8/2016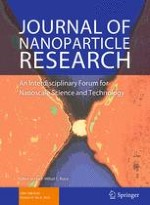 Silver nanoparticles: in vivo toxicity in zebrafish embryos and a comparison to silver nitrate
Zeitschrift:
Autoren:

Dina A. Mosselhy, Wei He, Dan Li, Yaping Meng, Qingling Feng
Abstract
The wide antimicrobial administration of silver nanoparticles (AgNPs) has raised the risks associated with their exposure. However, there is lack of robust toxicological data for the applied AgNPs to be in line with their wide antimicrobial applications. This study therefore set out to assess the in vivo toxicity of two different sizes of AgNPs using zebrafish embryos (
Danio rerio
) as a brilliant in vivo model. The pivotal role of size of AgNPs in the toxicity was highlighted, wherein the smaller AgNPs (Ag-9 nm) exhibited more embryo toxicities than the larger particles (Ag-30 nm). Much uncertainty still exists about whether the cause of in vivo toxicity of AgNPs is the physicochemical properties of AgNPs or the released silver ions (Ag
+
). Therefore, another purpose of this study is to compare the toxicity of AgNPs with silver nitrate (AgNO
3
) in terms of mortality, hatchability and cardiac rates, and a series of phenotypic endpoints of zebrafish embryos. Collectively, the present results point towards the remarkable size-dependent toxicity of AgNPs. Wherein, the smaller AgNPs (9 ± 2 nm) induce increased mortality rates and decreased hatchability rates than the larger particles (30 ± 5 nm) in a dose-dependent manner. Besides, AgNPs and AgNO
3
induce holistic different toxic mortality and hatchability rates. We have also found striking discrepancies in the phenotypic defects that were induced by AgNPs and AgNO
3
. The significant phenotypic defect induced by AgNPs is the axial deformity, while it is the deposition of Ag
+
on the embryonic chorion for AgNO
3
. Therefore, it is proposed that AgNPs and AgNO
3
induce different in vivo toxicities.