08.09.2017 | Original Paper | Ausgabe 11/2017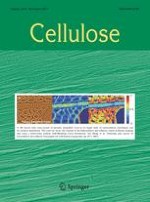 Silver nanoparticles supported on polyethylene glycol/cellulose acetate ultrafiltration membranes: preparation and characterization of composite
Zeitschrift:
Autoren:

Jonathan Caloca, Lucía Z. Flores-López, Heriberto Espinoza-Gomez, Erika Lis Sotelo-Barrera, Alfredo Núñez-Rivera, Rubén Darío Cadena-Nava
Abstract
In this research work, silver nanoparticles/polyethylene glycol/cellulose acetate ultrafiltration (Ag-NPs/PEG/CA UF) composite membranes were synthesized and characterized. The Ag-NPs were embedded in the polymer matrix by two methods: in situ and ex situ; varying the type of solvent used (dimethylformamide, DMF; or
N
-methyl-2-pyrrolidone, NMP). The Ag-NPs used in the
ex situ
method were synthesized by a green chemistry reduction method. The composite membranes were characterized by Fourier transform infrared spectroscopy with attenuated total reflection (FTIR-ATR), scanning electron microscopy with energy dispersive spectroscopy (SEM-EDS), and thermogravimetric analysis-derivative thermogravimetric analysis (TGA-DTG); the molecular weight cut-off and permeability were also determined. Moreover, the antibacterial efficiency of the composite membranes was measured against bacteria like
Escherichia coli
and
Staphylococcus aureus
. By FTIR-ATR analysis it was possible to observe that the Ag-NPs embedded in membranes changed the membrane morphology. The SEM-EDS analysis showed that the in situ composite membranes have good dispersity of Ag-NPs, DMF FB being the most densely populated obtained. By another hand, the
ex situ
DMF NP composite membrane presented the highest amount of silver signals per unit area (µm
2
). The permeability of the membrane was affected by the presence of the Ag-NPs; the DMF NP composite membrane had the highest permeate flow, while DMF FB had the highest antibacterial activity.