01.10.2011 | Research paper | Ausgabe 10/2011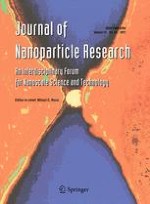 Silver nanoparticles with gelatin nanoshells: photochemical facile green synthesis and their antimicrobial activity
Zeitschrift:
Autoren:

Ali Pourjavadi, Rouhollah Soleyman
Abstract
In the current study, a facile green synthesis of silver-gelatin core–shell nanostructures (spherical, spherical/cubic hybrid, and cubic, DLS diameter: 4.1–6.9 nm) is reported via the wet chemical synthesis procedure. Sunlight-UV as an available reducing agent cause mild reduction of silver ions into the silver nanoparticles (Ag-NPs). Gelatin protein, as an effective capping/shaping agent, was used in the reaction to self-assemble silver nanostructures. The formation of silver nanostructures and their self-assembly pattern was confirmed by SEM, AFM, and TEM techniques. Further investigations were carried out using zeta-potential, UV–Vis, FTIR, GPC, and TGA/DTG/DTA data. The prepared Ag-NPs showed proper and acceptable antimicrobial activity against three classes of microorganisms (
Escherichia coli
Gram-negative bacteria,
Staphylococcus aureus
Gram-positive bacteria, and
Candida albicans
fungus). The antibacterial and antifungal Ag-NPs exhibit good stability in solution and can be considered as promising candidates for a wide range of biomedical applications.