01.08.2016 | Regular Paper | Ausgabe 3/2016 Open Access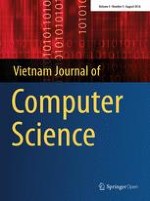 Similarity search for numerous patterns over multiple time series streams under dynamic time warping which supports data normalization
Zeitschrift:
Autoren:

Bui Cong Giao, Duong Tuan Anh
Abstract
A huge challenge in nowadays' data mining is similarity search in streaming time series under Dynamic Time Warping (DTW). In the similarity search, data normalization is a must to obtain accurate results. However, data normalization on the fly and the DTW calculation cost a great deal of computational time and memory space. In the paper, we present two methods, SUCR-DTW and ESUCR-DTW, which conduct similarity search for numerous prespecified patterns over multiple time-series streams under DTW supporting data normalization. These two methods utilize a combination of techniques to mitigate the aforementioned costs. The efficient methods inherit the cascading lower bounds introduced in UCR-DTW, a state-of-the-art method of similarity search in the static time series, to admissibly prune off unpromising subsequences. To be adaptive in the streaming setting, SUCR-DTW performs incremental updates on the envelopes of new-coming time-series subsequences and incremental data normalization on time-series data. However, like UCR-DTW, SUCR-DTW retrieves only similar subsequences that have the same length as the patterns. ESUCR-DTW, an extension of SUCR-DTW, can find similar subsequences whose lengths are different from those of the patterns. Furthermore, our proposed methods exploit multi-threading to have a fast response to high-speed time-series streams. The experimental results show that SUCR-DTW obtains the same precision as UCR-DTW and has lower wall clock time. Besides, the experimental results of SUCR-DTW and ESUCR-DTW reveal that the extended method has higher accuracy in spite of longer wall clock time. Also, the paper evaluates the influence of incremental
z
-score normalization and incremental min–max normalization on the obtained results.