01.04.2015 | Ausgabe 1/2015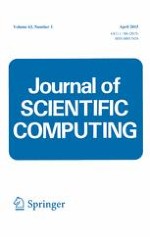 Simple and Efficient Determination of the Tikhonov Regularization Parameter Chosen by the Generalized Discrepancy Principle for Discrete Ill-Posed Problems
Zeitschrift:
Autor:

Fermín S. Viloche Bazán
Wichtige Hinweise
This work is supported by CNPq, Brazil, Grants 308709/2011-0, 477093/2011-6.
Abstract
Discrete ill-posed problems where both the coefficient matrix and the right hand side are contaminated by noise appear in a variety of engineering applications. In this paper we consider Tikhonov regularized solutions where the regularization parameter is chosen by the generalized discrepancy principle (GDP). In contrast to Newton-based methods often used to compute such parameter, we propose a new algorithm referred to as GDP-FP, where derivatives are not required and where the regularization parameter is calculated efficiently by a fixed-point iteration procedure. The algorithm is globally and monotonically convergent. Additionally, a specialized version of GDP-FP based on a projection method, that is well-suited for large-scale Tikhonov problems, is also proposed and analyzed in detail. Numerical examples are presented to illustrate the effectiveness of the proposed algorithms on test problems from the literature.