29.04.2016 | Methodologies and Application | Ausgabe 18/2017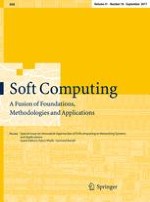 Simulated annealing based GRASP for Pareto-optimal dissimilar paths problem
Zeitschrift:
Autoren:

Linzhong Liu, Haibo Mu, Juhua Yang
Abstract
This paper investigates a
meta-heuristic
(MH) for the
Pareto-optimal
dissimilar path problem (DPP) (PDPP) whose solution is a set composed of at least two different paths. The objective vector of a PDPP includes some conflicting objectives: on the one hand, the average path measures such as the length and risk of paths in a solution must be kept low and, on the other hand, the dissimilarity among these paths should be kept high. The dissimilarity of the DPP is a measure of a paths set with cardinality no less than two. However, just one path can be extracted from a chromosome in the existing MHs for various path problems. This results in a great difficulty to evaluate the chromosome in the existing MHs when we apply them to solve DPP and, consequently, there exists no MH for solving the DPP so far. In this paper, a new decoding approach of a chromosome is first explored and, with this approach, a set of paths can be extracted from a chromosome. By combining the
simulated annealing
(SA), in which the new decoding approach is adopted, with the well-known
greedy randomized adaptive search procedure
(GRASP), a SA-based GRASP for the PDPP is proposed. The proposed algorithm is compared against a most recent heuristic, whose performance is better than all of the early approaches, for the PDPP and the experimental results show that the proposed algorithm is able to quickly create superior approximation of the efficient set of the PDPP than the existing solution approaches for the PDPP.