Erschienen in: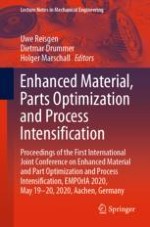 2021 | OriginalPaper | Buchkapitel
Simulation of Phase Transformation and Residual Stress of Low Alloy Steel in Laser Beam Welding
Abstract
The inhomogeneous temperature distribution in welding processes leads to high temperature gradients between the weld seam and the base material. A heterogeneous phase transformation takes place between the areas where the austenitic transformation temperature is exceeded and those where it remains below this temperature. This leads to a residual stress state which results in distortion when the yield strength is exceeded. In order to understand the thermal history of a welded specimen and the phase transformation that has taken place, numerical simulation is used.
This work focuses on the temperature field simulation and the resulting phase transformation in laser beam welding. Two heat sources are combined to simulate the weld pool. Typical models from the literature are used to represent the phase transformation. Altogether a model is developed which can be used as a basis for the calculation of residual stress formation due to thermal load and phase transformation.