20.03.2017 | Original Article | Ausgabe 2/2017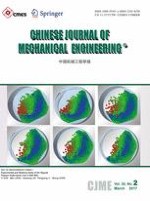 Simulation on Residual Stress of Shot Peening Based on a Symmetrical Cell Model
Zeitschrift:
Autoren:

Cheng WANG, Jiacheng HU, Zhenbiao GU, Yangjian XU, Xiaogui WANG
Wichtige Hinweise
Supported by National Natural Science Foundation of China (Grant Nos. 51175469, 51375448).
Abstract
The symmetrical cell model is widely used to study the residual stress induced by shot peening. However, the correlation between the predicted residual stresses and the shot peening coverage, which is a big challenge for the researchers of the symmetrical cell model, is still not established. Based on the dynamic stresses and the residual stresses outputted from the symmetrical cell model, the residual stresses corresponding to full coverage are evaluated by normal distribution analysis. The predicted nodal dynamic stresses with respect to four corner points indicate that the equi-biaxial stress state exists only for the first shot impact. Along with the increase of shot number, the interactions of multiple shot impacts make the fluctuation of the nodal dynamic stresses about an almost identical value more and more obvious. The mean values and standard deviations of the residual stresses gradually tend to be stable with the increase of the number of shot peening series. The mean values at each corner point are almost the same after the third peening series, which means that an equi-biaxial stress state corresponding to the full coverage of shot peening is achieved. Therefore, the mean values of the nodal residual stresses with respect to a specific transverse cross-section below the peened surface can be used to correlate the measured data by X-ray. The predicted residual stress profile agrees with the experimental results very well under 200% peening coverage. An effective correlation method is proposed for the nodal residual stresses predicted by the symmetrical cell model and the shot peening coverage.