01.07.2014 | Ausgabe 7/2014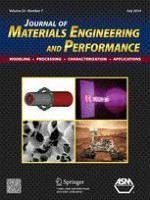 Simulations of Self-Expanding Braided Stent Using Macroscopic Model of NiTi Shape Memory Alloys Covering R-Phase
Zeitschrift:
Autoren:

M. Frost, P. Sedlák, A. Kruisová, M. Landa
Wichtige Hinweise
This article is an invited paper selected from presentations at the International Conference on Shape Memory and Superelastic Technologies 2013, held May 20-24, 2013, in Prague, Czech Republic, and has been expanded from the original presentation.
Abstract
Self-expanding stents or stentgrafts made from Nitinol superelastic alloy are widely used for a less invasive treatment of disease-induced localized flow constriction in the cardiovascular system. The therapy is based on insertion of a stent into a blood vessel to maintain the inner diameter of the vessel; it provides highly effective results at minimal cost and with reduced hospital stays. However, since stent is an external mechanical healing tool implemented into human body for quite a long time, information on the mechanical performance of it is of fundamental importance with respect to patient's safety and comfort. Advantageously, computational structural analysis can provide valuable information on the response of the product in an environment where in vivo experimentation is extremely expensive or impossible. With this motivation, a numerical model of a particular braided self-expanding stent was developed. As a reasonable approximation substantially reducing computational demands, the stent was considered to be composed of a set of helical springs with specific constrains reflecting geometry of the structure. An advanced constitutive model for NiTi-based shape memory alloys including R-phase transition was employed in analysis. Comparison to measurements shows a very good match between the numerical solution and experimental results. Relation between diameter of the stent and uniform radial pressure on its surface is estimated. Information about internal phase and stress state of the material during compression loading provided by the model is used to estimate fatigue properties of the stent during cyclic loading.