29.08.2016 | Ausgabe 1/2017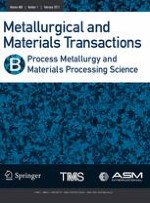 Simultaneous Modification of Alumina and MgO·Al2O3 Inclusions by Calcium Treatment During Electroslag Remelting of Stainless Tool Steel
Zeitschrift:
Autoren:

Cheng-Bin Shi, Wen-Tao Yu, Hao Wang, Jing Li, Min Jiang
Wichtige Hinweise
Manuscript submitted January 30, 2016.
Abstract
Calcium modification of both alumina and MgO·Al2O3 inclusions during protective gas electroslag remelting (P-ESR) of 8Cr17MoV stainless steel and its effect on nitrides and primary carbides were studied by analyzing the transient evolution of oxide and sulfide inclusions in the P-ESR process. The oxide inclusions that were not removed during P-ESR without calcium treatment were found to retain their original state until in as-cast ingot. Calcium treatment modified all MgO·Al2O3 and alumina inclusions that had not been removed in the P-ESR process to liquid/partially liquid CaO-Al2O3-(MgO) with uniformly distributed elements, in addition to a small proportion of partially modified inclusions of a CaO-MgO-Al2O3 core surrounded by a liquid CaO-Al2O3. The modification of low-MgO-containing MgO·Al2O3 inclusions involves the preferential reduction of MgO from the MgO·Al2O3 inclusion by calcium and the reaction of calcium with Al2O3 in the inclusion. It is the incomplete/complete reduction of MgO from the spinel by calcium that contributes to the modification of spinels. Alumina inclusions were liquefied by direct reaction with calcium. Calcium treatment during P-ESR refining also provided an effective approach to prevent the formation of nitrides and primary carbides in stainless steel through modifying their preferred nucleation sites (alumina and MgO·Al2O3 inclusions) to calcium aluminates, which made no contribution to improving the steel cleanliness.