11.12.2015 | Ausgabe 2/2016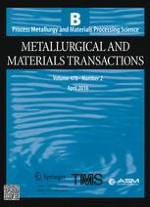 Simultaneous Separation of Manganese, Cobalt, and Nickel by the Organic-Aqueous-Aqueous Three-Phase Solvent Extraction
Zeitschrift:
Autoren:

Sakae Shirayama, Tetsuya Uda
Wichtige Hinweise
Manuscript submitted October 6, 2014.
Abstract
This research outlines an organic-aqueous-aqueous three-phase solvent extraction method and proposes its use in a new metal separation process for the recycling of manganese (Mn), cobalt (Co), and nickel (Ni) from used lithium ion batteries (LIBs). The three-phase system was formed by mixing xylene organic solution, 50 pct polyethylene glycol (PEG) aqueous solution, and 1 mol L−1 sodium sulfate (Na2SO4) aqueous solution. The xylene organic solution contained 2-ethylhexylphosphonic acid (D2EHPA) as an extractant for Mn ion, and the Na2SO4 aqueous solution contained 1 mol L−1 potassium thiocyanate (KSCN) as an extractant for Co ion. Concentrations of the metal ions were varied by dissolving metal sulfates in the Na2SO4 aqueous solution. As a result of the experiments, Mn, Co, and Ni ions were distributed in the xylene organic phase, PEG-rich aqueous phase, and Na2SO4-rich aqueous phase, respectively. The separation was effective when the pH value was around 4. Numerical simulation was also conducted in order to predict the distribution of metal ions after the multi-stage counter-current extractions.