10.10.2020 | Ausgabe 1/2021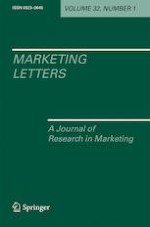 Sinfully decadent: priming effects of immoral advertising symbols on indulgence
Zeitschrift:
Autoren:

Jasmina Ilicic, Stacey M. Brennan, Alicia Kulczynski
Wichtige Hinweise
Electronic supplementary material
Publisher's note
Springer Nature remains neutral with regard to jurisdictional claims in published maps and institutional affiliations.
Abstract
This research introduces an immorality-indulgence priming effect, whereby the presence of immorality symbols (i.e., devil, hell, serpent) versus morality symbols (i.e., angel, heaven, saint) in advertising increase consumer indulgence. Study 1 examines the priming effect of morality symbols on indulgent consumption, controlling for religiosity and belief in afterlife. Study 2 and Study 2b investigate the role that activation of mental representations of rebelliousness has in explaining the immorality-indulgence effect. Study 3 explores the role of immorality symbols on actual indulgent choices. Findings from Study 1 indicate that immorality symbols prime consumer indulgence. Study 2 provides evidence of rebelliousness as the process influencing indulgent product choice (indulgent intention, Study 2b), while ruling out the alternative explanation of image-message congruence. Study 3 provides evidence that immorality symbols increase actual indulgent behavior. This research has important implications for advertisers in the development of advertisements that can influence indulgent behaviors.