01.12.2010 | Ausgabe 12/2010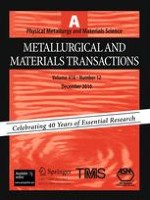 Sintering Behavior of Nanocrystalline Silicon Carbide Using a Plasma Pressure Compaction System: Master Sintering Curve Analysis
Zeitschrift:
Autoren:

Manish G. Bothara, Sundar V. Atre, Seong-Jin Park, Randall M. German, T.S. Sudarshan, R. Radhakrishnan
Wichtige Hinweise
Manuscript submitted February 9, 2008.
Abstract
Nanostructured ceramics offer significant improvements in properties over corresponding materials with larger grain sizes on the order of tens to hundreds of micrometers. Silicon carbide (SiC) samples with grain sizes on the order of 100 nm can result in improved strength, chemical resistance, thermal stability, and tailored electrical resistivity. In this study, nanocrystalline SiC was processed in a plasma pressure compaction (P
2
C) system at a temperature of 1973 K (1700 °C) that was much lower than the temperatures reported for other sintering techniques. Microstructure of the resulting samples was studied and the hardness and the fracture toughness were measured. The grain sizes were on the order of 700 nm, the hardness between 22 and 24 GPa, and the toughness between 5 and 6.5 MPa·m
1/2
. The master sintering curve (MSC) analysis was used to model the densification behavior of SiC powder sintered by the P
2
C method. The apparent activation energies for three different pressures of 10, 30, and 50 MPa were obtained to be 1666, 1034, and 1162 kJ/mol, respectively. Although densification occurs
via
diffusion, the activation energies were higher than those associated with self-diffusion in SiC (between 570 and 920 kJ/mol). A validation study of the MSC was also conducted and the variation in observed density from the density predicted by the MSC was found to range from 1 to 10 pct.