08.07.2016 | Ausgabe 9/2016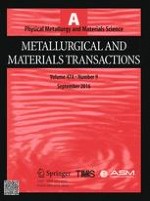 SiO2 and CaF2 Behavior During Shielded Metal Arc Welding and Their Effect on Slag Detachability of the CaO-CaF2-SiO2 Type ENiCrFe-7-Covered Electrode
Zeitschrift:
Autoren:

Huang Wang, Renyao Qin, Guo He
Wichtige Hinweise
Manuscript submitted November 23, 2014.
Abstract
The metallurgical behavior during shielded metal arc welding (SMAW) and the slag detachability of the CaO-CaF2-SiO2 type ENiCrFe-7-covered electrodes was investigated. The results indicated that the slag detachability could be improved as the SiO2 in the flux coatings decreased. When the SiO2 in the flux coating was 10.9 pct, about 28.3 pct CaF2 resulted in the best slag detachability. The CaF2 and SiO2 in the flux coating interacted during SMAW to form gaseous SiF4 to be evacuated. In the reactions, one SiO2 consumed two CaF2, leading to the reduction of the ratio of CaF2/SiO2. After comparing the slag compositions, the best slag detachability was obtained at CaO:CaF2:SiO2 = 1.7:1.8:1, but the worst slag detachability appeared at CaO:CaF2:SiO2 = 1.3:0.9:1. The XRD analysis revealed that the oxides and fluorides in the slags preferred to gather together to form cuspidine and other complex phases. If the CaF2 was dominant in the slags, they intended to form homogenous porous microstructures that were relatively strong and would most likely detach from the weld metal in blocks, exhibiting good slag detachability. If the cuspidine phase was dominant, the slags exhibited a 'rock strata'-like microstructure in the intergranular area. Such microstructure was very fragile and could be broken into fine powders that were easily embedded in the weld ripples, leading to slag adhesions. This work provides the researcher with a wealth of information and data, which will also be beneficial to the welding material producers and users.