2012 | OriginalPaper | Buchkapitel
Situational Awareness and Road Prediction for Trajectory Control Applications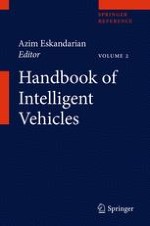 Erstes Kapitel lesen
Autoren: Christian Lundquist, Thomas B. Schön, Fredrik Gustafsson
Verlag: Springer London
Abstract
Situational awareness is of paramount importance in all advanced driver assistance systems. Situational awareness can be split into the tasks of tracking moving vehicles and mapping stationary objects in the immediate surroundings of the vehicle as it moves. This chapter focuses on the map estimation problem. The map is constructed from sensor measurements from radars, lasers and/or cameras, with support from on-board sensors for compensating for the ego-motion.
Four different types of maps are discussed:
(i)
Feature-based maps are represented by a set of salient features, such as tree trunks, corners of buildings, lampposts and traffic signs.
(ii)
Road maps make use of the fact that roads are highly structured, since they are built according to clearly specified road construction standards. This allows relatively simple and powerful models of the road to be employed.
(iii)
Location-based maps consist of a grid, where the value of each element describes the property of the specific coordinate.
(iv)
Finally, intensity-based maps can be considered as a continuous version of the location-based maps.
The aim is to provide a self-contained presentation of how these maps can be built from measurements. Real data from Swedish roads are used throughout the chapter to illustrate the methods.