01.12.2009 | Ausgabe 1-4/2009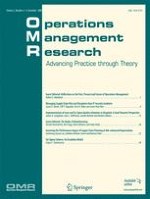 Six Sigma failures: An escalation model
Zeitschrift:
Autor:

Satya S. Chakravorty
Abstract
Despite the pervasiveness of Six Sigma programs, there is rising concern regarding the failure of many Six Sigma programs. One explanation for many Six Sigma failures could be escalation of commitment. Escalation of commitment refers to the propensity of decision-makers to continue investing in a failing course of action. Many researchers have applied escalation of commitment to explain the behavior of individuals, groups, companies, and nations. Using the escalation of commitment model (Staw and Ross
1987a
; Ross and Staw Acad. Manag. J. 36:701–732
1993
) as a basis, this research describes a Six Sigma failure in an electrical components company. In documenting this failure, this research contributes in two ways, both in the practice and in the theory of Six Sigma. First, while examining the Six Sigma failure, this research uncovers important factors for successful implementation, which should improve the practice of Six Sigma. Second, academic research (e.g., Schroeder et al. J. Oper. Manag, 26:536–554
2008
; Zu et al. J. Oper. Manag, 26:630–650
2008
) is engaged in uncovering the definition of Six Sigma, and its differences from other improvement programs. This research provides a new direction to academic research and has the potential to impact the theory of Six Sigma.