21.07.2017 | Ausgabe 4/2018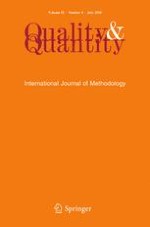 Skills and labour incomes: how unequal is Italy as part of the Southern European countries?
Zeitschrift:
Autoren:

Antonio Garofalo, Rosalia Castellano, Gennaro Punzo, Gaetano Musella
Abstract
This paper performs a comparative investigation of the effects of the Great Recession on the labour market structure and wage inequality in certain countries in Southern Europe (Greece, Italy, Portugal, and Spain). By exploring the intensity of the decline of middle-skill jobs during the years 2005–2013, which makes it possible to sketch what the labour market structure has set for itself (i.e., job polarisation, upgrading or neither), the objective is to relate these changes to wage inequality and its leading determinants. Through the Recentered Influence Function regression of the Gini index on EU-SILC data, Italy is compared to each selected country in order to evaluate how much of the spatial inequality gap is accounted for by the endowment in employee characteristics (composition effect) rather than the capability of each country's labour market to reward these characteristics (wage structure) and, second, to identify those factors that are quantitatively more significant in making differentials. In brief, Italy is less unequal than the other Southern European countries. A larger amount of its "inequality advantage" depends on the wage structure. That is, the capacity of the country's labour market in rewarding individual endowments is more important than the ways in which they are distributed across space.