11.12.2017 | Originalarbeit | Ausgabe 1/2018 Open Access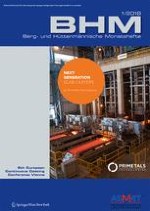 Slag Rim Formation of two Mould Powders used for Casting of Construction Steel
Zeitschrift:
Autoren:

Dipl.-Ing. Dr. Irmtraud Marschall, Guangmin Xia, Nathalie Kölbl
Abstract
Two different mould powders are used for casting peritectic steel grades at the voestalpine Stahl Linz GmbH slab casting machine. Powder A forms significantly larger slag rims than Powder B, although their chemical compositions are very similar.
For the clarification of the different performance during service, the melting and solidification behaviour as well as the viscosity of the original mould powders have been investigated. Slag rim samples were taken during tail out and cross-sections were analysed by microscopic means.
The findings show that the mould powder suppliers use two different raw material concepts. Consequently, the powders do not exhibit identical melting behaviour, which turns out to be the main influencing factor for the slag rim formation.