2015 | OriginalPaper | Buchkapitel
10. Sliding Mode Control and Its Relatives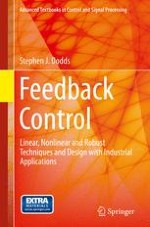 Erstes Kapitel lesen
Autor: Stephen J. Dodds
Verlag: Springer London
Abstract
First, standard sliding mode control of single-input, single-output plants is developed from the material of Chap.
9
on switched state feedback control, first with second-order plants by study of the closed-loop phase portraits. The purpose of sliding mode control in achieving robustness is emphasised. The equivalent control is defined. Control chatter is identified. The conditions for the existence of sliding motion are derived, and the reaching of the sliding region of the switching boundary from arbitrary initial states is studied. The system behaviour with external disturbances is considered.
The introduction of nonlinear switching boundaries to prevent overshooting in second-order systems with arbitrary initial states is presented. This is followed by sub-time-optimal sliding mode control of second-order plants using a nonlinear boundary layer based on a double parabolic switching boundary tangential to a linear region passing through the origin of the phase plane.
Sliding mode control of single-input, single-output plants of arbitrary order is introduced, for which the design procedure for the linear switching boundary yielding specified closed-loop dynamics is presented.
Next, three methods of control chatter avoidance are presented. These are (1) the pseudo sliding mode controller using the boundary layer method, following from the material in Chap.
9
; (2) the control smoothing integrator method entailing the augmentation of the plant with one or more pure integrators to remove the switching to a primary control variable in the controller software; and (3) higher-order sliding mode control, introducing a control structure in which not only the switching function is driven to zero in the sliding mode but also its derivatives up to a specified order.
The relatives of the sliding mode controller are presented, which stem from the pseudo sliding mode controller with the boundary layer. They comprise all the linear controllers that may be designed by robust pole placement.
The remainder of the chapter introduces multivariable sliding mode control by pairing controlled outputs with control inputs via study of the equations derived to determine the relative degrees. This is followed by discrete sliding mode control formulated for multivariable linear plants, single-input, single-output plants being included as special cases. This also constitutes a fourth method for eliminating control chatter as its control variables are piecewise constant approximations to the equivalent control in the sliding mode.
The appendix presents observer-based robust control, a technique developed by the author, which is a distant relative of sliding mode control in that it forces desired behaviour by means of judiciously applied high gains. Although requiring adjustment of controller parameters, it is capable of similar robustness to sliding mode control and, importantly, is capable of accommodating model order uncertainty while yielding a specified closed-loop dynamics with a fixed order.