30.08.2018 | SPECIAL ISSUE: ICOMAT 2017, INVITED PAPER | Ausgabe 4/2018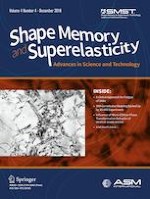 SMA Constitutive Modeling Backed Up by 3D-XRD Experiments: Transformation Front in Stretched NiTi Wire
Zeitschrift:
Autoren:

M. Frost, P. Sedlák, P. Sedmák, L. Heller, P. Šittner
Wichtige Hinweise
This article is an invited paper selected from presentations at the 2017 International Conference on Martensitic Transformations (ICOMAT 2017), held July 9–14, 2017, in Chicago, IL, and has been expanded from the original presentation.
Abstract
It has been known for a long time that martensitic phase transformation in NiTi shape memory alloys loaded in tension develops inhomogeneously via formation and propagation of macroscopic deformation bands resembling well-known Lüders bands. Growing literature evidence supports the view that NiTi, in fact, develops a variety of localized deformation phenomena in particular geometries and loading modes. Coupling of cutting-edge experimental methods with dedicated modeling techniques can bring new insight into such a type of behavior. In this short review of our recent study, we demonstrate this synergic approach on the investigation of the martensite band in a stretched NiTi superelastic wire, in which the advanced technique of three-dimensional X-ray diffraction was complemented by NiTi-tailored constitutive model. We focus mainly on the modeling part, but the experimental background motivating and validating the chosen numerical approach is also briefly presented.