2019 | OriginalPaper | Buchkapitel
15. Smart Cities for Recovery and Reconstruction in the Aftermath of a Disaster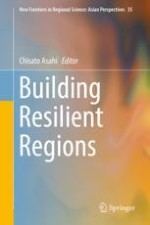 Erstes Kapitel lesen
Autor: Yoriko Tsuchiya
Verlag: Springer Singapore
Abstract
As a measure against global warming, smart cities are being built to reduce the use of carbon by introducing renewable energy, securing dispersed and autonomous power supply, and managing energy at the scale of the city. Following the Great East Japan Earthquake of March in 2011, the concept of a smart city has gained considerable interest in Japan as a measure for controlling energy to improve disaster prevention ability and resilience to disasters. For shaping a smart city, energy-saving equipment and energy management systems should be introduced by using energy control technology, etc. Managing and controlling energy by means of a storage battery makes it possible to employ renewable energy sources such as solar power and to utilize energy potential. Furthermore, optimization and stabilization of energy supply and demand too can be contributed.
In this chapter, features of public–private partnership projects related to a smart city in the operational stage are described, which has been being developed for the reconstruction of afflicted areas. First, I will describe the concept and definition of smart city in Japan are explained, and then four cases of smart cities from Miyagi Prefecture are introduced. These four cases are "Alai Green City Project" as post-disaster public housing; "Tago West Project" as post-disaster public housing–general housing, mixed type; "Higashimatsushima Eco-Town Project" as post-disaster public housing–business complex type; and "Akaiwa Port Eco-Marine Processing Estate Project" as factory type.
In the planning stage of these projects, in addition to HEMS or BEMS for housings, also the networking of multiple facilities and introduction of large-scale energy infrastructure such as storage batteries and renewable energy are being studied. However, in Japan, presently, only limited part of the plan has been operationalized in power supply and its flexible distribution. In the next stage of operation, further improvement of the infrastructure, stability of profit structure, and reinforcement of the organization management to sustain electric power supply will be essential.