2019 | OriginalPaper | Buchkapitel
Smart Home Security Application Enabled by IoT: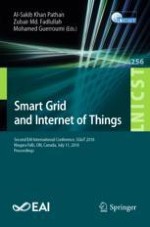 Erstes Kapitel lesen
Using Arduino, Raspberry Pi, NodeJS, and MongoDB
Autoren: Chad Davidson, Tahsin Rezwana, Mohammad A. Hoque
Abstract
Recent advances in smartphones and affordable open-source hardware platforms have enabled the development of low-cost architectures for IoT-enabled home automation and security systems. These systems usually consist of a sensing and actuating layer that is made up of sensors such as PIR (Passive Infra-red) sensors, also known as motion sensors; temperature sensors; smoke sensors, and web cameras for security surveillance. These sensors, smart electrical appliances and other IoT devices connect to the Internet through a home gateway. This paper lays out architecture for a cost effective "smart" door sensor that will inform a user through an Android application, of door open events in a house or office environment. The proposed architecture uses an Arduino-compatible Elegoo Mega 2560 microcontroller (MCU) board along with the Raspberry Pi 2 board for communicating with a web server that implements a RESTful API. Several programming languages are used in the implementation and further applications of the door sensor are discussed as well as some of its shortcomings such as possible interference from other RF (Radio Frequency) devices.