01.08.2014 | Ausgabe 4/2014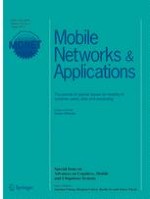 Smartphones
App

s Implementing a Heuristic Joint Coding for Video Transmissions over Mobile Networks
Zeitschrift:
Autoren:

Igor Bisio, Fabio Lavagetto, Giulio Luzzati, Mario Marchese
Abstract
This paper presents the scheme Heuristic Application Layer Joint Coding (Heuristic-ALJC) for video transmissions aimed at adaptively and jointly varying both applied video compression and source encoding at the application layer used to protect video streams. Heuristic-ALJC includes also a simple acknowledgement based adaptation of the transmission rate and acts on the basis of feedback information about the overall network status estimated in terms of maximum allowable network throughput and link quality (
lossiness
). Heuristic-ALJC is implemented through two smartphone Apps (transmitter and receiver) and is suitable to be employed to transmit video streams over networks based on time varying and possibly lossy channels. A deep performance investigation, carried out through a real implementation of the
App
s over Android smartphones, compares Heuristic-ALJC with static schemes.