2019 | OriginalPaper | Buchkapitel
Smartphones Uses to Discover a Touristic Destination and its Consequences on Tourism Experience: An Abstract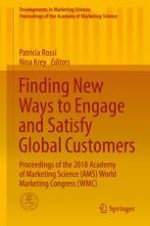 Erstes Kapitel lesen
Autoren: Jean-Francois Lemoine, Mathieu Salvadore
Abstract
Smartphone appears as a "traveling companion" of the tourist to serve his experience. The purpose of this research is to understand how tourists use their smartphone to discover a tourist destination. We develop and test a model of use diffusion of smartphone. Our research is based on use-diffusion (U-D) theory. This theory identifies perceived effects of mobile service uses only on utilitarian dimension. In the field of tourism, research show that perceived effects of uses are not limited to the utilitarian dimension but also to the other dimensions of the tourism experience.
Therefore, we make the following assumption: mobile services uses during a tourist stay positively influence dimensions of tourism experience (H1). Perceived effects of mobile services uses on tourism experience positively influence satisfaction with mobiles services (H2).
Our research has mobilized two types of methodologies. First, a qualitative study was conducted with 21 smartphone owners aged 15–60 years in order to identify smartphone uses for tourist purposes. A method by semi-directive interview has been adopted. Results of the qualitative study show three categories of mobile services uses, orientation, organization, and search for information located. We called these mobile services mobile service uses to discover a destination (MSUDD). These different uses influence tourism experience and satisfaction with these mobile services.
Second, a quantitative study allowed us to test our conceptual model. Our sample consisted of 486 French tourists who went on vacation in the last 6 months. The relationships between variables were examined using a structural equation modeling. Exploratory and confirmatory factor analyses have led to identify two dimensions related to perceived effects on the discovery of the tourist area and another dimension related to the perceived effects on the social dimension of the stay.
The analysis of the structural coefficients of the model allows us to validate the hypothesis H1; MSUDD uses have a positive effect on tourism experience for the two dimensions, discovery and social dimensions. On the other hand, hypothesis 2 is partially validated. Perceived effect on discovered dimension has a positive effect on user's satisfaction, but perceived effect on social dimension has negative effect. Through the uses of its smartphone, the tourist can facilitate the discovery of its destination. Therefore, if smartphone uses can mediate positively tourism experience, this device can also "de-exotised" the tourism stay and make it lose its "extraordinary character."
References Available Upon Request