01.08.2014 | Ausgabe 3/2014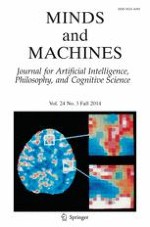 Smooth Yet Discrete: Modeling Both Non-transitivity and the Smoothness of Graded Categories With Discrete Classification Rules
Zeitschrift:
Autor:

Bert Baumgaertner
Abstract
Many of our categorization experiences are non-transitive. For some objects
a
,
b
and
c
,
a
and
b
can appear indistinguishable, and likewise
b
and
c
, but
a
and
c
can appear distinguishable. Many categories also appear to be smooth; transitions between cases are not experienced as sharp, but rather as continuous. These two features of our categorization experiences tend to be addressed separately. Moreover, many views model smoothness by making use of infinite degrees. This paper presents a methodological strategy that shows how solving the transitivity problem first can thereby introduce explanatory resources that feed into an account of smoothness
without
having to make use of infinite degrees.