09.11.2016 | Methodologies and Application | Ausgabe 16/2017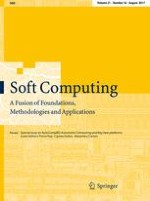 Smoothed
\(\ell _1\)

-regularization-based line search for sparse signal recovery
Zeitschrift:
Autoren:

Zhimin Yang, Yi Chai, Tao Chen, Jianfeng Qu
Abstract
\(\ell _1\)
-regularization-based sparse recovery has received a considerable attention over the last decade. In this paper, a solver called SQNSR is proposed to recover signals with high dynamic range. SQNSR utilizes linear search strategy and quasi-Newton step to the solve composite objective function for the sparse recovery problem. Since
\(\ell _1\)
-norm-regularized item is nonsmooth, smoothing technique is introduced to obtain an approximate smoothed function. The sufficient and necessary condition is also derived for the feasible smoothed objective function. By limiting the step length in each iteration, the convergence of SQNSR is guaranteed to obtain the sparsest solution. Numerical simulations are implemented to test the performance of the proposed approach and verify the theoretical analysis.