2015 | OriginalPaper | Buchkapitel
Social Capital and Local Institutions: A Perspective to Assess Communities Adaptation Potential to Climate Change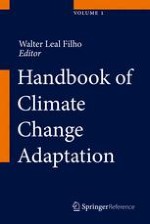 Erstes Kapitel lesen
Autor: Bhaskar Padigala
Verlag: Springer Berlin Heidelberg
Abstract
Communities residing in Himalayan mountain environment are particularly at risk to climate changes externalities owing to their high dependence on natural resources, relatively high contact to severe climatic events, and prevalent economic and infrastructural marginalization. The present article tries to explore the nature of local society-environment interactions, particularly the role of social institutions and social capital in adaptive capacity to possible climate change impacts in Miyar watershed situated in the northeastern part of Lahaul and Spiti district of Himachal Pradesh, India. The first part of the article deals with climate change perception among local communities and the following part deals with identification and evaluation of adaptive capacities and prevailing institutional mechanisms.
Study findings indicate that local community in Miyar valley, over the time, has developed variety of efficient resource (natural and human) management strategies and institutions (like
Jowari
system and
Kuhl
Committee, etc.) formed as a result of social cohesiveness (social capital), collective action, and common motivation to deal with both environmental and nonenvironmental changes. These aspects of local institutions and social capital are directly related to resource management and community development, but it also provides a buffer zone for the communities to adapt against any future changes (climatic variability, social or economic, etc.) up to some extent.