01.03.2015 | Ausgabe 1/2015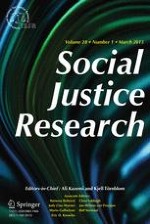 Social Change in Mongolia and South Africa: The Impact of Relative Deprivation Trajectory and Group Status on Well-Being and Adjustment to Change
Zeitschrift:
Autoren:

Roxane de la Sablonnière, Francine Tougas, Donald M. Taylor, Jonathan Crush, David McDonald, Onon Radchenko Perenlei
Abstract
During times of profound social change, people's psychological well-being is related to their assessment of their path from the past to the future [temporal relative deprivation (RD)]. A first survey conducted in Mongolia (
n
= 480) and data from a representative population survey conducted in South Africa (
n
= 2,711) are used to explore whether the status of one's group during a time of dramatic social change moderates the relationship between temporal RD and well-being. Black South Africans and Mongolians (low-status group members) reported the highest well-being if they reported RD levels would decrease over time (even higher than group members who reported low but steady levels of RD). However, White South Africans (high-status group members) reported the lowest levels of well-being if they reported high and steady levels of RD (even in comparison with group members who reported that RD levels would increase over time). The implications of these different patterns and directions for future research are proposed.