2017 | OriginalPaper | Buchkapitel
Social Enterprise for Economic Opportunity at UTEC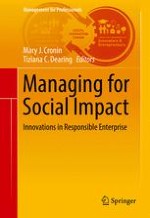 Erstes Kapitel lesen
Autoren: Gregg Croteau, Ed Frechette, Dawn Grenier
Abstract
UTEC is a nonprofit organization in Lowell, MA, that serves proven-risk young people—those who actively have demonstrated risk factors for incarceration and criminal activity. UTEC works in Lowell and Lawrence, MA, two cities with substantial immigrant populations experiencing income inequality and significant gang activity. UTEC helps proven-risk youth transition from gangs and/or incarceration to achieving sustainable employment and completing their educations.
As part of its strategy, UTEC has developed three social enterprises in food, woodworking, and mattress recycling. These enterprises not only allow UTEC to take a patient "mad love" approach to working with their young people, but also provide core operating revenues for the organization. While the earned income is attractive, the young people come first, and the social enterprises are part of a carefully constructed set of values, cultural practices, and approaches designed to walk with the young people from disenfranchisement to education and to stable, long-term employment.
This chapter explores UTEC's overall approach, and then dives deeply into UTEC's Mattress Recycling program, the first point of entry for its youth. As authors Gregg Croteau, Ed Frechette, and Dawn Grenier note, "The business side of each social enterprise must work around the programming side, not the other way around." Mattress Recycling is a competitive enterprise that is structurally suited to the level of engagement, supervision, and multiple chances to which UTEC is committed.