2018 | OriginalPaper | Buchkapitel
9. Social Life on Distant Alien Worlds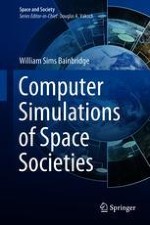 Erstes Kapitel lesen
Autor: William Sims Bainbridge
Abstract
Planets readily habitable by humans, not requiring massive terraforming or construction of domed cities with artificial atmospheres, are probably rare and therefore distant. Two innovative computer games offer complex simulations of colonies around far stars in our own galaxy, and one high-quality game even in the Andromeda galaxy.
Anarchy Online
models socio-political interaction after the disintegration of a corporate-controlled colony on the planet Rubi-Ka, large territories of which are now dominated by rebels, while
Entropia Universe
models a free market economy on the planet Calypso. A census of 58,400 avatars on Rubi-Ka compares the popularity of different professions, while a dataset describing 897 groups with 31,179 members on Calypso compares their changing activity priorities over the period 2003–2017. Those two colonization examples are massively multiplayer, while very recently,
Mass Effect: Andromeda
demonstrated how the complexity of social interaction could be modeled in a solo-player game through artificial intelligence and pre-scripting of non-player characters. It is rather realistic in its depiction of the varying natural conditions of five barely-colonizable planets, and the astronomical structures of solar systems, while exploring a number of social issues largely focused on trust versus distrust between strangers.